Dancing Record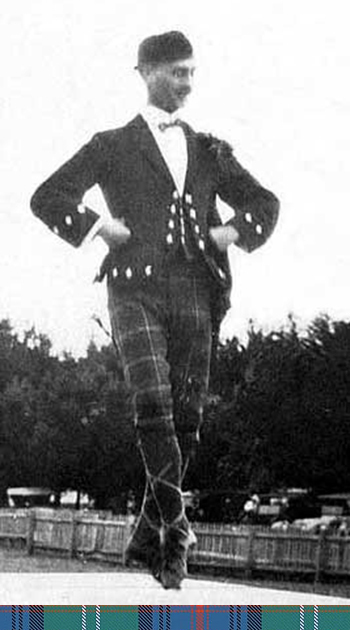 William Sutherland was born in Wick in 1878, according to his army discharge papers, a date different from the 1880 given on his death certificate. His father was a stone mason. Mr Sutherland left his parents at the age of nine to be a herd laddie. He never spoke of his own family but the crofters he lived with were very good to him and he started dancing there. It always amused him that his first medal was not for dancing but for riding a donkey backwards at a circus.
He could win locally but could not beat the dancers who came up from the south. The earliest recorded success that we have is a medal, photographed among the memorabilia, won at the Tournaveen Games in 1891 when he was 13 years old.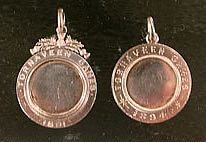 He dated his dancing education from when his lessons started in Glasgow, where he went to take out indentures to a tailor. He later shifted to Aberdeen as a journeyman in a trade he practised throughout his long working life, eventually in Wellington at Docherty's then later at Bedford's. He used to say, "I have a good trade at my fingertips." By this he meant that he was independent and beholden to no one. He always worked on piece rates - payment by item made.
Tailors at Bedford's worked on a wooden platform about a yard above the floor where they all sat without cushions, tailor-style. This was not cross-legged in a child's manner, it was more in the Pacific Island attitude with, say, the right foot almost under the opposite buttock, but with the left leg where the cloth was draped bent over the right knee. In his sixties Mr Sutherland could fold both his legs so that each foot rested high on top of the opposite thigh, lotus style. To amuse me he would sometimes walk on his knees with his feet folded that way. He made my kilts and school trousers.
He served in Egypt during the Boer War as evidenced by the Mediteranean medal from Queen Victoria shown in the pictures of his memorabilia. He was a sergeant serving in France in the Great War with the 3rd Battalion of the Seaforth Highlanders. He was a fire warden in Wellington during World War II. His was a long military involvement. His regimental number is 114 780.
He was not a supporter of the Jacobite cause saying to grandson Ian, "Remember that we did not come out for Charlie." Of course there were several times more Scots fighting at Culloden for the Government than there were Sassenachs.
There is a significant point about his movements. He said any number of times that it was not generally realised in Scotland that the William Sutherland listed in the Scottish prize records as being from Thurso was the same William Sutherland as that from Aberdeen - one and the same central character as in these recollections.
Mr Sutherland was taught by John McKenzie in the 1890s, who in turn was taught by John McNeill Snr. (Take care with your generations of the McNeill dancers. Another later and unrelated John was a great contemporary of Mr Sutherland's.)
At Aboyne he won the highland reel eighteen times between 1901 and 1923. He won Gillie Callum at the same games for 15 years with two seconds over that period. Sutherland took fourteen firsts and two seconds in the Highland fling at Aboyne. Sean Truibhas was not danced at Aboyne until 1948.
At Braemar between 1902 and 1923 the games were held fourteen times. During that period he won the Highland reel 12 times, the Hulachan 10 times and the fling 9 times, the swords 8 times, and Sean Truibhas 8 times, as well as other placings.
Present day officials of the Aboyne and Braemar Highland gatherings have been generous towards this project with their time. They have furnished following full details of Wm Sutherland's competitive record at these games. His results that follow are staggering.
CLICK HERE TO SEE THE RESULTS: Aboyne | Braemar
Morag McBeath, Secretary to the Aboyne Highland Games, kindly furnished information from the book Aboyne Highland Games Results of Principal Competitions 1867-1928. John Duff, Immediate Past President of the Braemar Highland Games, has extracted Mr Sutherland's results from the Games records. I am most grateful to the two officials though I do not implicate them in other parts of the memoir.
There were no competitions during World War I. At that time Aboyne and Braemar were the premier meetings in Scotland. Cowal was not the important meeting when he was dancing that it later became, and I don't think that he competed there.
For the 60 years from 1867 to 1928 Mr Sutherland had by far the most successful record of any dancer at Aboyne. The best the next most successful dancers could manage in that long era were four to six firsts in a single event. Notice that there were four years of no competition during the war and Mr Sutherland came to New Zealand in 1924 so he lost nine of those 60 years.
Of great significance are the dancers who placed below him. The crème de la crème of dancing were consistently inferior to William Sutherland at Aboyne. These were great dancers too: John M'Neil, J.A. Pirie and J.A. Centre. Perhaps of special significance to today's readers in this list of distinguished dancers placed after Mr Sutherland are R. Cuthbertson and Sutherland pupil J.L. McKenzie.
Aboyne and Braemar are not the only games that Mr Sutherland made his own. As the forgoing medals show he had a purple period at Turriff as well. We have just a fragmentary record of his successes elsewhere, coming mostly from his extant trophies.
I have several times seen the printed evidence of his dancing record published in two books of results in the possession of the late Mr Hilary Glasgow, J.P., Turakina. These books were loaned to my parents on a couple of occasions decades ago. They were sewn, soft bound and the spines were deteriorating. The Glasgow family may still have these valuable records. Mr Sutherland competed successfully all over Scotland. He was several times presented to Royalty and danced on Command.
In my childhood, there were numerous older Scots people living in New Zealand who were aware of Mr Sutherland's dancing record and, though he was a pariah in dancing circles here, no one disputed that his record in Scotland was brilliant. This record was ignored by New Zealanders, particularly from around 1940. This attitude contrasts with the respect that New Zealand born pipers had for the Scottish records of Murdo McKenzie and George Yardley and the pleasure they took from them. Those pipers' records pale beside Mr Sutherland's.
He taught in Scotland where his greatest pupil was James L. McKenzie (his dancing and deed pole name not his given name, which was Cowan if my memory serves me right). James came to dominate dancing there after Mr Sutherland emigrated. James Kinghorn also learned from him in Scotland.
One of the important reasons for the emigration was that James McKenzie started to win competitions over his teacher. The other reasons were a pulled calf muscle, sciatica and, I suspect, the loss of his wife in circumstances which alienated Mr Sutherland from the Presbyterian Church. Mrs Clementina Mathieson-Sutherland was ill for some years, eventually dying of TB. Some months later the minister visited and enquired after Mrs Sutherland's health which upset Mr Sutherland. He did not remarry and he returned to Scotland once. His sciatica left him for good on his final journey through the tropics.
| | |
| --- | --- |
| | |
| | |
Mr Sutherland was actively sought by the Piping and Dancing Association of New Zealand. From 1919 it was the Association's policy to attract leading Scots pipers and dancers to New Zealand, an idea of the president Kenneth Cameron who was to have much to do with the future opposition to Mr Sutherland as we shall see in the chapter Dunedin Experiences. In 1923 the P&D sent a circular, to a number of pipers and dancers in Scotland, containing details of wages and living costs, prize money and the high supplementary incomes from teaching in New Zealand. In the event , the stated prizes and the teaching incomes were false.
Mr Sutherland was sent the circular and he had correspondence with Kenny Cameron about migrating. Mr Sutherland stated quite clearly that he would not require a teaching income, that he was a tailor and kilt maker by trade and that he would appreciate help in finding a job at his trade. Cameron found him a job. Mr Sutherland used to say that he, " had good trade at his finger tips." It proved so as he was never out of work. His first New Zealand job was with Hugh Paterson, Dunedin, whose daughter, Violet, Mr Sutherland taught.
Mr Sutherland came to Dunedin in 1923, his only child Christina following reluctantly later. Daughter Christina was latterly Mrs Croxford, wife of the policeman in Temuka. They had two sons, one Ian also a policeman and the other, Norton known as Bill was a geologist who went to Australia retiring back to New Zealand. I was a guest of Mrs Croxford when Mr Sutherland was living with her in his retirement in 1959. As an elderly man he lived with my parents, then with Grace and Hilary Glasgow on their Turakina farm, where he died in 1967.
There were sports meetings all over the country after World War I. Almost every stop on the main trunk had its sports meeting. However, the central North Island circuit of sports meetings consisted of Turakina, Dannevirke, Wanganui, Hunterville and Taihape over summer. 1925/6 was a vintage year. The pipers on the circuit included the father and son McKenzie, Bob Thomson, Jack Cameron (Mataura), George Yardley and Albert MacIntyre (Christcurch). The main dancers were Mr Sutherland, Jimmie Kinghorn, Davey Bothwell and D. McKenzie (Dannevirke).
New Zealand born Albert MacIntyre had a particularly good tour and John McKenzie won over his father in the Piobaireachd at Dannevirke. Of the 23 dancing events, Jimmie won 11, Mr Sutherland ten and the outclassed Davey Bothwell managed two wins. At 46 and injured, age was against Mr Sutherland. He had left one country partly because of an ascending pupil to meet a similar situation in another.
In Scotland forty years on Mr Sutherland was remembered:
There was, however, another one, Willie Sutherland of Thurso, who made a great impression and disputed Pirie's right to be uncrowned king. Willie was a tailor by trade and had a habit of sitting with his legs crossed and passing caustic comments on his fellow competitors. On the board he made a marvellous sight and at the Haddow House Games one year he drew a spontaneous comment that describes him perfectly. "Man," said the observer, "Look how well balanced Sutherland is on his legs. You would think his moustache was evenly parted to a hair."
From David Webster, Scottish Highland Games.' Collins, Glasgow, 1959, p 34.